san jose community network news digest
San Jose moves to ban natural gas in new residential buildings
thechronicleherald.ca
•
1568785920
By Nichola Groom (Reuters) - San Jose, the 10th most populous U.S. city and political center of Silicon Valley, on Tuesday moved to ban natural gas in most new residential buildings beginning next year. With a unanimous vote by the 10-member city
HUD Secretary Ben Carson makes dismissive comments about transgender people, angering agency staff
Washington Post
•
1568934677
During his visit to San Francisco this week, the Housing and Urban Development Secretary also lamented that society no longer seemed to know the difference between men and women, according to three people who were present. Carson's remarks, which visibly shocked people at the gathering, are part of a pattern of making dismissive remarks about transgender people. Under his leadership, HUD has moved to weaken Obama-era rules requiring shelters house transgender people with their identified gender.
Study finds management cautious about citizen sourcing - Government News
Councils could be missing out on the opportunities and benefits of citizen sourcing because of pushback from senior management and fear of giving power to the community, a researcher says. Described as a civic equivalent of crowd sourcing, citizen sourcing can give the community input into local government projects and policies, such as redesigns of a local park or library, or solving parking problems. It can help local authorities gain innovative ideas and solutions, UTS lecturer Dr Krithi...
Social workers arrested in fight to save East San Jose family resource center
San José Spotlight
•
1568963647
More than a dozen activists were arrested Thursday in San Jose after blocking a street to protest Santa Clara County's decision to close its Department of Family and Children's Services on North King Road and move the family resource center to its campus on West Julian Street — more than three miles away. The social...
San Jose City Park Rangers Equipped With Naloxone to Combat Opioid Overdoses
NBC Bay Area
•
1569010168
San Jose park rangers have started carrying the nasal spray naloxone that is used to reverse an opioid overdose.
Preparedness Day Educates Thousands of Californians on Disaster Readiness – Cal OES News
Thousands of Californians are now more prepared for the next disaster. With historic Old Sacramento as the backdrop, the 14th annual California's Preparedness Day invited the community to learn about disaster preparedness through a litany of educational and fun activities. The event featured more than 40 state, federal and local agencies, public safety departments and non-profit organization. Showcasing interactive activities, the opportunity to meet first responders and to watch live demonst...
Former San Jose music teacher agrees to 56-year prison sentence in student sex assaults
East Bay Times
•
1568747205
Case spurred lawsuits alleging school district mishandled Samuel Neipp's troubling behavior, and call for restricting social-media and texting interactions between teachers and students.
"New State Law Rewrites the Rules for Police Use of Force-But Not Much Changes for SJPD" - "Crime
Tue, Sep 17 2019: "Crime | Safety" by San Jose Community NETWORK (SanJoseVoice) on Nuzzel. Subscribe to "Crime | Safety" Nuzzel Newsletter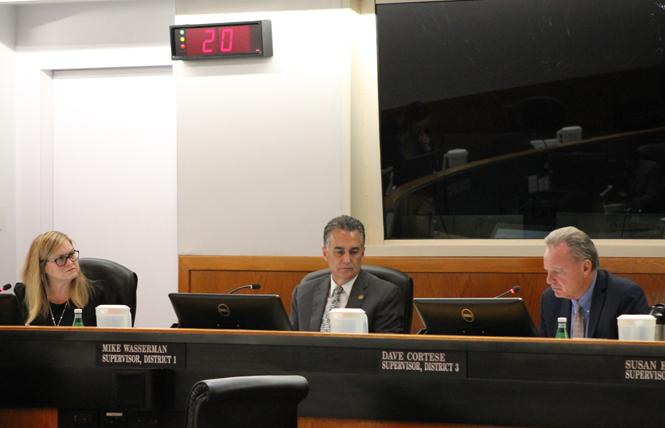 South Bay supes OK hate crimes task force
The Bay Area Reporter / B.A.R. Inc.
•
1568840541
A South Bay task force on hate crimes became a reality after the Santa Clara County Board of Supervisors voted unanimously to establish it.
California's new gig economy law could impact trucking industry - Story
The hard-fought battle for the employment law Governor Newsom signed Wednesday that could convert hundreds of thousands of independent gig workers into full-blown employees already has some scary, unintended consequences.
'I could've just gotten shot in the head' San Jose State University student recalls terrifying moments after bullets hit main library
ABC7 San Francisco
•
1568962325
A San Jose State student says he had to dive for cover after a bullet flew right over his head. The shooting happened at East San Fernando and South 4th Streets. It left the MLK Library and a nearby parking structure riddled with bullet holes.
Silicon Valley Goes to Therapy
Bummed out by the world and their role in it, tech workers are seeking help — and founding some start-ups along the way.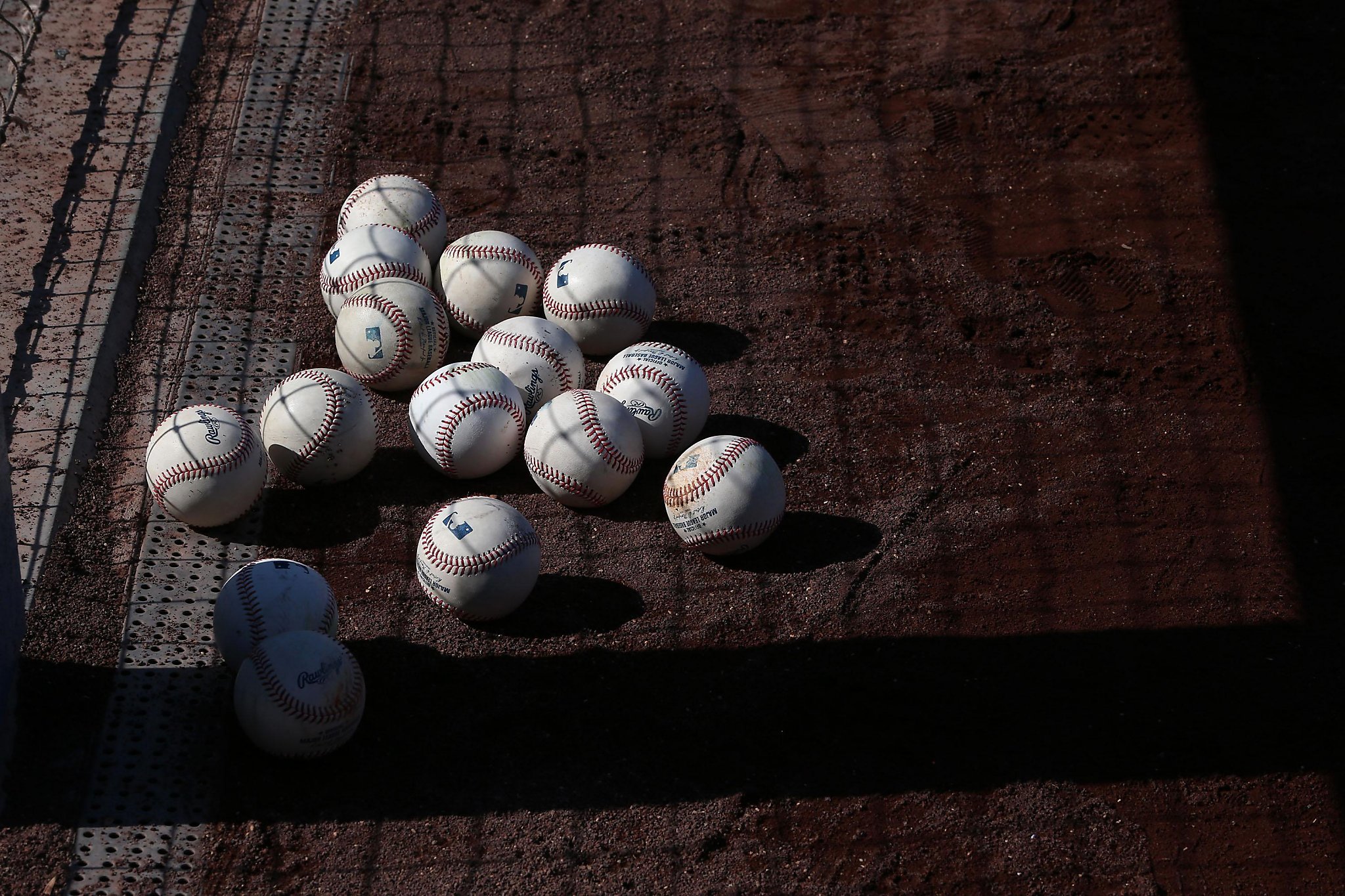 Bay Briefing: The booming Bay 'exurbs' try smart growth — kind of
SFChronicle.com
•
1568977200
Good morning, Bay Area. It's Friday, Sept. 20, and communities like Tracy are filling a housing need but adding to carbon emissions, California won't get President Trump's tax returns anytime soon, and Bay Area athletes want answers from the league on allegedly "juiced" baseballs. Here's what you need to know to start your day. Living in the sprawl The Bay Area's skyrocketing housing costs are pushing families into far-flung suburbs such as Tracy. And the American dream of a single-family home coupled with cities' restrictions on building multifamily rentals and condos means "exurbs" continue to thrive despite state and local officials' recognition that they exacerbate climate change through longer commutes. J.K. Dineen reports on what a new development in Tracy is doing to encourage less driving within the subdivision — and to connect the development to public transit . More: "The homes being developed in Tracy are not being built for the typical distribution center workers (who work in the town). These are not homes that someone making $15 an hour can afford ." This story is part of our Bay Area climate coverage. See all the stories from Our Climate...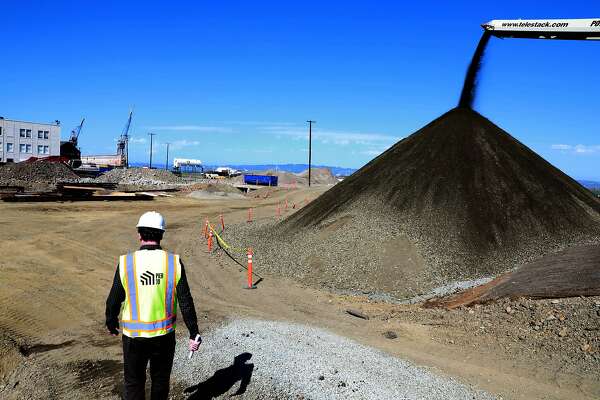 Despite climate crisis, California continues to embrace exurban sprawl
SFChronicle.com
•
1568977200
Tracy is building desperately needed housing, but many of its residents are driving long distances to jobs — despite a push for walkability.
San Jose to consider extending subsidy for downtown high-rise residential projects – East Bay Times
East Bay Times
•
1568989626
The San Jose City Council is considering whether to extend a subsidy for nine high-rise residential projects in the city's downtown, which would cut construction taxes in half and waive fees that g…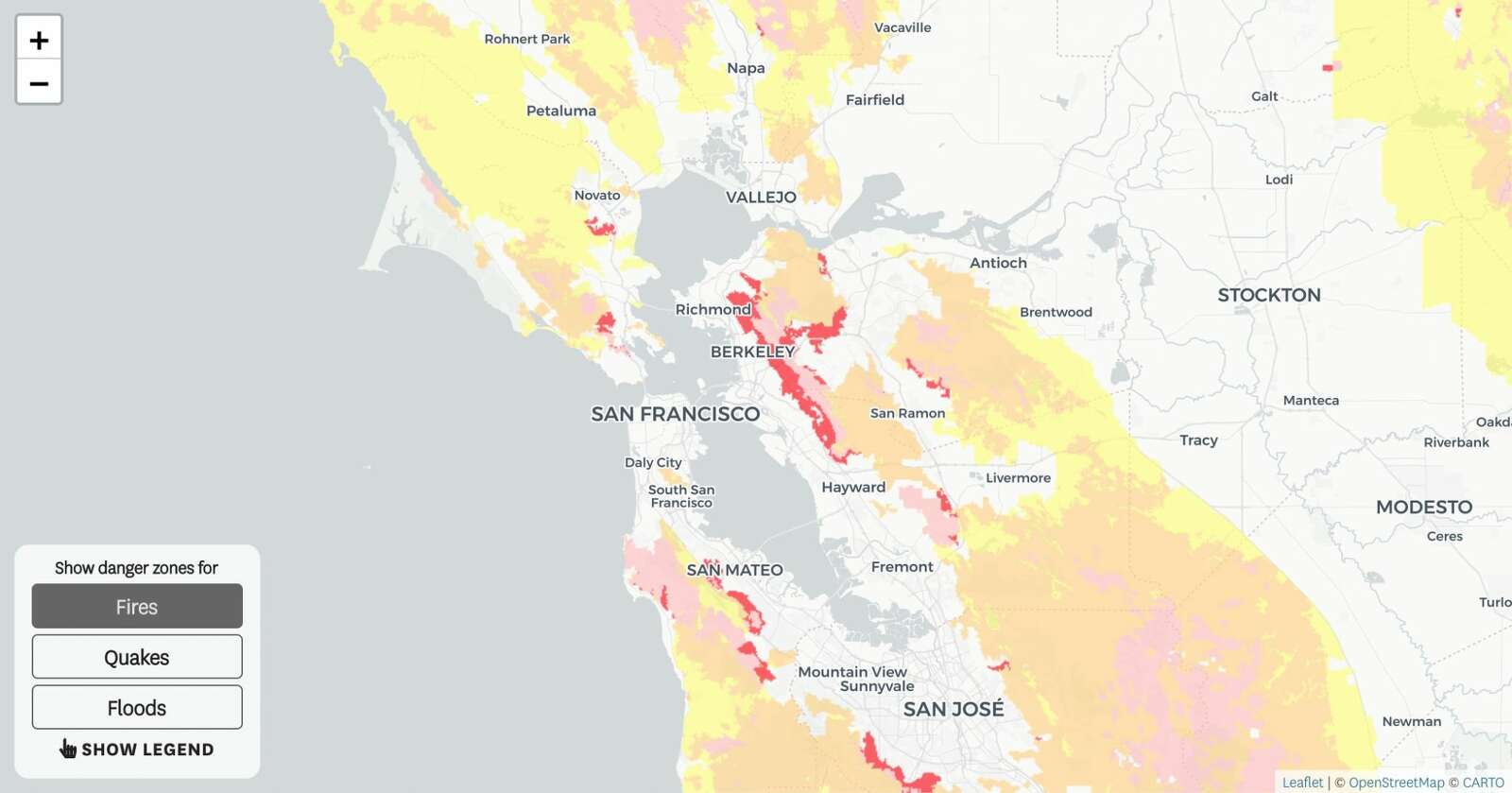 Interactive Map: California danger zones for earthquakes, fires, floods
This map highlights the risk areas in California for three major natural disasters: fires, earthquakes and floods. Select a layer to see the risk areas. Climate change will bring more wildfires through residential areas. The best way to fight them begins before your neighborhood is at risk. Lessons from Santa Rosa » There's a 72% probability that a major earthquake will strike the Bay Area by 2043. Here's what your community should do now. Lessons from San Francisco » Tens of thousands of ...
FEATURE: John Doyle to be inducted into San Jose Sports Hall of Fame
San Jose Earthquakes
•
1568996888
SAN JOSE, CA – The San Jose Sports Hall of Fame will mark its 25th year of honoring South Bay sports legends when it inducts four new members on Wednesday, Nov. 14*, at the SAP Center at San Jose. The inductees hail from the upper echelon of collegiate, professional and/or Olympic competition. Although from different sports in different eras, they have made a lasting impact both on and off the field of play. The San Jose Sports Hall of Fame Class of 2019 Inductees are: John Doyle: All American, MLS Soccer Star, Olympic and US National Team Member John Dunning: US National Champion Volleyball Coach Seana Hogan: Record Setting Cross Country Cyclist Juli Inkster: All- American, Amateur and Professional Golf Champion "San Jose's incredibly rich and diverse sports history makes the Hall of Fame selection process very difficult each year," said Charlie Faas, Chairman of the San Jose Sports Authority Board of Directors. "The Class of 2019 is a wonderful representation of the deep and meaningful impact athletes and coaches with South Bay connections have made in their respective sports, locally, nationally and internationally. We are excited to welcome these four remarkable individuals into the San Jose Sports Hall of Fame." Each inductee will be recognized with a bronze plaque permanently installed on the concourse at the SAP Center at San Jose. Including the 2019 inductees, there will be 114 South Bay sports icons enshrined in the Hall of Fame. The annual induction is an event of the San Jose Sports Authority, San Jose Arena Authority, SAP Center Management/San Jose Sharks, and the City of San José. The event benefits Special Olympics Northern California and high school sports programs. Executive Director John Poch of the San Jose Sports Authority states, "The San Jose Sports Hall of Fame Class of 2019 represent all that we value, including integrity, work ethic, sportsmanship, and excellence. Individually and collectively, their accomplishments, both in the Bay Area and across the world of sport, are the stuff of legend. We look forward to honoring their legacies in November at our Hall of Fame induction ceremonies at the SAP Center in San Jose." The November ceremony kicks off with a reception followed by dinner and induction ceremony. Individual tickets begin at $300 each; sponsorship and table packages are available starting at $3,000. For information and to purchase event tickets call (408) 288-2936. About the San Jose Sports Authority The San Jose Sports Authority is a non-profit organization whose mission is to increase the City of San Jose's economic development, visibility, and civic pride through sports. Serving as the City's sports commission since its inception in 1991, the Sports Authority has provided leadership and support to attract and host hundreds of sporting events in San Jose and the South Bay. The Sports Authority also supports and operates community, youth and amateur sports programs, including the San Jose Sports Hall of Fame and the REACH Youth Scholarship Program. To learn more, visit www.sjsa.org. San Jose Sports Hall of Fame / Inductee Bios John Doyle John Doyle is a Bay Area soccer icon, starring at the high school, club, college, Olympic & professional levels who represented USA Soccer at the highest level. He was a founding member and Team Captain of San Jose's Major League Soccer franchise, the Clash, in 1996. He played in the first game in MLS history and was named the league's first Defender of the Year. He remained a critical component of the team for the next five years as it reclaimed the Earthquakes nickname and re-established itself as a San Jose sports institution. Following his playing career, he served as an assistant coach from 2004-05 and then become Earthquakes General Manager from 2008-16. Doyle played college soccer at the University of San Francisco and was named a second team All-American before beginning his professional career with American and European club teams, including a stint with the German first division club FC Lokomotive Leipzig. He earned fifty-three caps with the USA National Team including starting in the 1990 FIFA World Cup and played in the 1988 Seoul Olympic Games. John Dunning Dunning, who led Stanford's women to three national championships, is a college coaching icon. A graduate of Fremont High in Sunnyvale, he began his career at his alma mater in 1977 and won six straight CCS titles. In 1985, he was named head coach at University of Pacific, where his teams compiled a 437-102 won loss record and earned NCAA titles in 1985 and 1986. He moved on to Stanford University in 2001 and immediately coached the Cardinal to Pac-10 and NCAA championships while being named Coach of The Year in the Pac10, Western Region and the United States. Dunning is one of only two coaches to have captured national titles on three different levels --high school, club and college. His overall won-loss record is 888-185 for a winning percentage of .828. He was named to the American Volleyball Coaches Association Hall of Fame in 2011. He retired in 2017 after directing Stanford to three national championships and eight league titles during his 16 years at the university. Seana Hogan An ultra-cycling legend, Hogan has won the grueling transcontinental Race Across America six times and holds several world records. Her 1995 transcontinental speed record of nine days, four hours and two minutes has stood the test of time and has never been bettered. Hogan commuted by bicycle to San Jose State University, where she earned a BA in Mathematics, then attained a Masters at UC Berkeley that led to her career as an IBM software engineer. She began riding after hours with a group of co-workers and discovered her calling as a distance rider. She has won the Race Across America a record six times and also holds the San Francisco to Los Angeles record of 19 hours, 11 minutes. On the track, she owns the 12-hour, 24-hour, 100-mile and 200-mile records. In 2004, she was inducted into the Ultra Cycling Hall of Fame. In 2017, Hogan set the women's 50-and-over transcontinental mark of 12 days, 13 hours and 25 minutes. Juli Inkster Inkster, a San Jose State graduate who resides in Los Altos, is Santa Clara County's most accomplished golfer in history, male or female. Raised in Santa Cruz, she dominated the amateur golf scene winning the California State Amateur title and three straight U. S. Women's Amateur titles. At San Jose State, she holds the school-record with 17 tournament victories. As a professional golfer, she has 45 tournament victories including seven major championships. Her career professional earnings places her among the top 10 female golfers of all time. In 1984, she became the first woman to win two LPGA majors in her rookie season. In 1999, Inkster won the U. S. Open with a record score of 16-under-par 272 and become just the second woman to complete the women's modern Grand Slam -- the LPGA Championship, US Open, Dinah Shore and du Maurier Classic. She won the US Open again in 2002 and earned induction into the LPGA Hall of Fame. Inkster is also is a member of San Jose State's Hall of Fame and the World Golf Hall of Fame. Along with her 31 LPGA titles, she represented the USA nine times as a Solheim Cup competitor and captain and set an American record for most match victories in the event. *Date Subject to Change
'Person of interest' sought in downtown shooting – East Bay Times
East Bay Times
•
1569029714
No victims were found, but the MLK Library and a parking garage were hit by bullets
Bay Area tops 4.1 million jobs, 10 straight months of employment gains – East Bay Times
East Bay Times
•
1569002514
In a fresh indication that any potential economic downturn remains beyond the visible horizon, the Bay Area added 5,100 jobs during August, an upswing led by the region's three major employme…
If healthy, Klay will join Steph on Team USA for Olympics
Klay Thompson wants to join Steph Curry on Team USA at 2020 Olympics Klay Thompson wants to join Steph Curry on Team USA at 2020 Olympics When Steph Curry announced he had plans to play in the 2020 Olympics , many were excited to witness even more basketball at the hands of the six-time All-Star. And perhaps he will be joined by teammate Klay Thompson ... "I would love to play (for) Team USA," Thompson told The Athletic's Marcus Thompson . "That is the plan. I would love to be on the Olympic ...
What it really costs to live in the Bay Area
The numbers behind 24/7 Wall Street's designation of SF as the U.S.'s most expensive city
Undocumented Immigrants' Transplant Survival Rates on Par with U.S. Citizens'
Unauthorized immigrants who receive liver transplants in the United States have comparable three-year survival rates to U.S. citizens, according to a study by researchers at UC San Francisco. Yet access to life-saving organs for this population varies widely by state, in part due to a medical misperception that undocumented migrants face a higher risk of transplant failure. "Our results bring much-needed scientific evidence to a politically and medically divisive issue and shed light on disp...
Gov. Newsom to decide on later school start times for students - Story
Students across California may soon be able to get some extra sleep in the morning before school starts if a new piece of legislation is passed.
Mobility Trends Improving the Quality of Life for All
Silicon Valley Leadership Group
•
1568956369
Technology will open the door to more places to live, make the time being transported more enjoyable, lower costs for basic necessities, and improve the overall quality of our lives.
Amazon expands 'cloud' training to Northern California colleges, high schools – EdSource – IAM Network
blog.iammarketingmedia.com
•
1568851200
Amazon expands 'cloud' training to Northern California colleges, high schools EdSource Looking to bring new talent into cloud computing, Amazon Web Services has turned to California community colleges and high schools. The company, a …
Remembering the tragic deaths on Highway 85
East Bay Times
•
1568724331
A request has been put in to fix the sensor issues at Capitol and Hostetter in San Jose.
Bikes, Scooters Could Replace Many Car Trips in U.S. Cities
Streetsblog USA
•
1568678400
Almost half of all car trips in U.S. cities are three miles long or less. That little nugget of information has long been understood, hinted at by U.S. Census surveys, but now a transportation data company has confirmed and expanded on it. INRIX Research constantly collects anonymous travel data from a wide variety of sources. Its clients include cities, vehicle manufacturers, fleet managers, and data providers. Its research arm has taken a small slice of that data to show a relatively simple...
At the intersection of tech, climate and the land of Silicon Valley
Our "Marketplace Tech" series "How We Survive" explores the ways tech can help adapt to climate change. In this installment, we explore the impacts of climate change in the backyard of the tech industry. The epicenter of technology, California's Silicon Valley, is not just a metaphor for the tech industry — it's a real place. Cities, businesses and people are surrounded by rising seas and are at risk from increasingly extreme weather. I wanted to know what the industry is doing to adapt to cl...
New State Law Rewrites the Rules for Police Use of Force—But Not Much Changes for SJPD
San Jose Inside
•
1568630016
Come Jan. 1, 2021, every police department in California must enact stricter guidelines for using deadly force. They must rewrite the training manuals to require officers to resort to fatal force only when "necessary," as opposed to when "objectively reasonable," and based on the totality of circumstances. They must place more emphasis on de-escalation tactics. Finally, they must also train officers how to better interact with physically and mentally disabled people. SB 230 was initially manu...
France Will Subsidize E-Bike Buyers — But U.S. Won't
Streetsblog USA
•
1568592000
They're doing it in Paris, so why not here? Lawmakers in France announced last week e-bike owners in the greater Paris area may soon be able to get half the cost of their wheels — up to 500 euros — paid for by the government as part of an effort to boost the eco-friendly vehicles. In the U.S., federal tax breaks that can knock up to $7,500 off the cost of a new electric vehicle have been available to car drivers for years, but those hoping to upgrade their old 10-speed to an e-bike have alway...
The Bay Area's Housing Crisis Could be Alleviated by developing Marin County
Broke-Ass Stuart's Website
•
1568592000
Marin County, the wealthiest of the North Bay's four counties, and one of the wealthiest in the United States, is largely untouched, and undeveloped. As a result, Marin County is gorgeous. It has rolling hills that trail down from picturesque Mt. Tamalpais, redwood trees, miles of coastline on the Pacific, as well as a significant amount of shoreline on the San Francisco and San Pablo Bays. Unfortunately, all of this undisturbed beauty comes at a huge cost to the rest of the region. While San...
Conversations About Landscape: Roles for Emerging Mobility in Sustainable Transportation
Exploratorium
•
1568679297
RSVP The Bay Area's transportation system is running at capacity. We see the strain when squeezing our way into crowded MUNI and BART cars, waiting 30 minutes or more at the Bay Bridge toll plaza, and dodging scooters as we cross the street. To add to the challenge, the California Metropolitan Transportation Commission predicts that the Bay Area population will swell by 30%, to nearly 10 million people, by 2040. Join transportation experts, urban planners, and equity advocates in a conversati...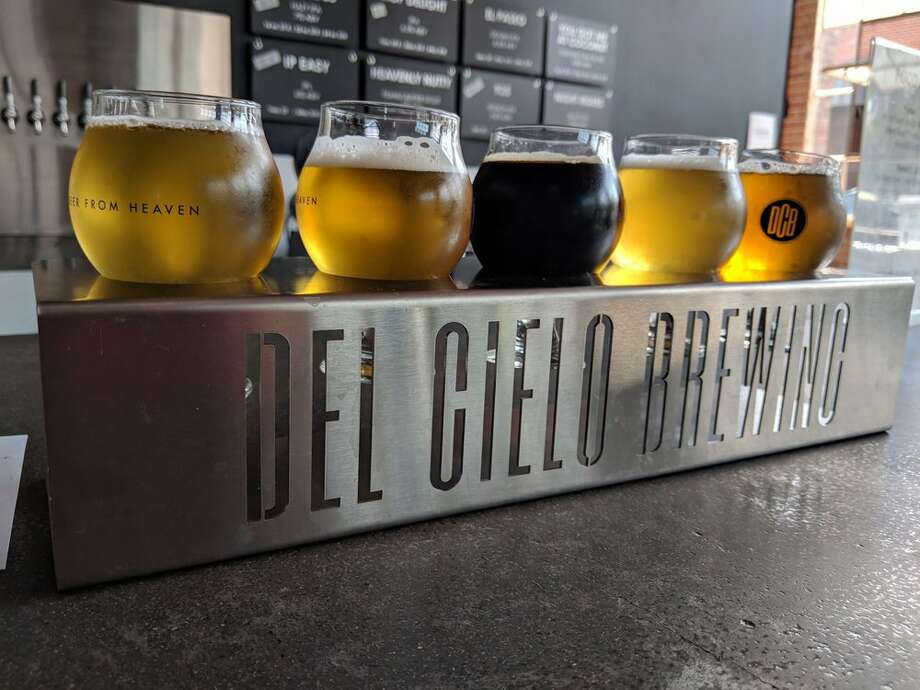 6 East Bay breweries dominate at first-ever California Craft Brewers Cup
It's been a busy year in California brewing. The state's craft breweries now number more than 1,000, and industry growth hasn't yet ceased, despite perpetual talk of a "craft beer bubble" burst. At this year's California Craft Beer Summit in Long Beach last weekend, hundreds of representatives from the state's breweries, malthouses and hop growers gathered to share industry insights (and beer, obviously) and to engage in a friendly competition.
One Size Does Not Fit All: Choose the Right Car Seat for Your Child Sept. 15-21 is Child Passenger Safety Week
Pomona, Calif. – Pomona Police Department is joining law enforcement agencies, public health departments and other community organizations to raise awareness about the importance of keeping children in the correct car seat for their age and size. The effort to promote car seat safety coincides with Child Passenger Safety Week, which is from Sept. 15-21. According to the National Highway Traffic Safety Administration (NHTSA), 46% of car seats are not used properly. "Children mean the world to ...
President Trump to hold fundraiser in Bay Area Tuesday
SAN FRANCISCO (KTVU) - President Trump is scheduled to visit the Bay Area for the first time as president for a fundraiser event on Tuesday. Air Force One is set to land at Moffett Airfield in Mountain View at 11 a.m. where the president is expected to host a 2020 reelection luncheon. The exact location of the fundraiser isn't known for security reasons, but additional details will be made available only to those who RSVP. Cities like Atherton, Palo Alto and San Francisco have been mentioned ...
The Bay Area had 218 days of lousy air in 2018
San Franciscans appreciates the city's architecture, ample parks, glorious views, culture, and proximity to the ocean. But one of SF's best assets is one that most people take for granted: our excellent air quality. Thanks largely to the same ocean breezes that bring in the fog, most people in SF rarely have to wonder about the day's air quality. But that all changed for a brief period in 2018 when smoke from the deadly Camp Fire resulted in the worst air quality ever recorded in SF. Nearl...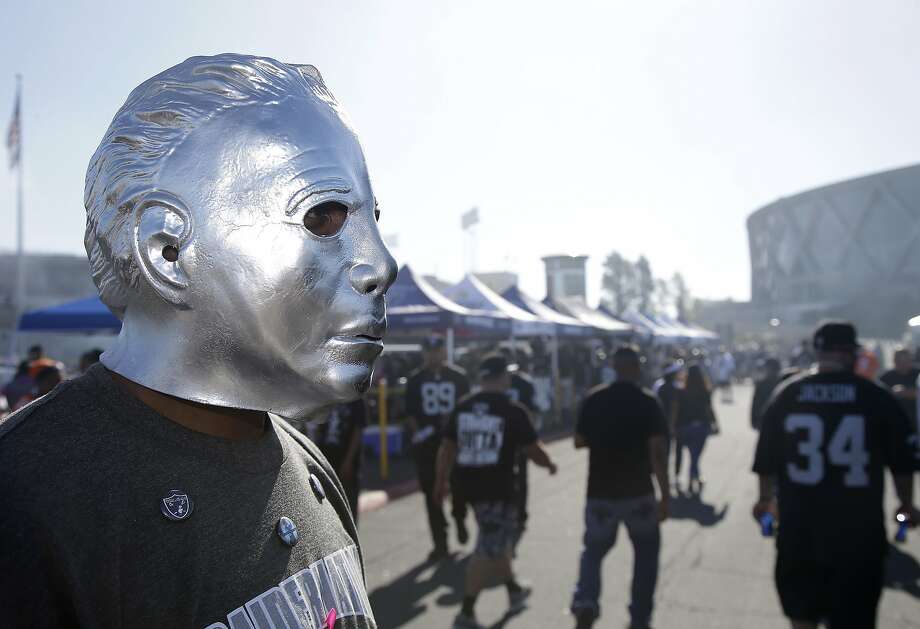 ICE raids Raiders tailgate parties for counterfeit gear
U.S. Immigration and Customs Enforcement, which usually makes headlines for its raids on undocumented immigrants or threats to do so, has a new target in the Bay Area: Raiders tailgate parties.
Car break-ins jump 14 percent in San Jose: Roadshow – East Bay Times
East Bay Times
•
1568119577
The city of San Jose will look into the signal timing at the intersection of Capitol Avenue and Minuet Drive.

Amazon container order another move toward 'dominating US logistics'
The Loadstar
•
1568122235
Amazon last week took delivery of the first 48 containers of its order for 250 53ft boxes, as it ramps up its domestic US network. JOC revealed that the internet retailer had placed the order for intermodal containers as another step towards its goal of becoming a large network transport company. According to Steve Ferreira, found of Ocean Audit, the containers were made in Guangdong, and "probably avoided a tariff as they were landed ...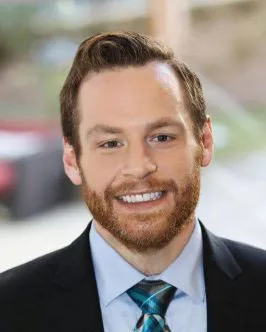 How states can improve America's immigration system
The federal government can't solve the crisis itself.