Despite quarterly revenues of $13.4 billion, a stock price that hit a five-year high last month and year-over-year growth of 6 percent, Cisco announced that it's trimming its Silicon Valley engineering staff. The company is shedding nearly 500 employees—397 at its San Jose headquarters and 91 in Milpitas. It marks the second round of layoffs…

Trade War Hits Silicon Valley as Cisco Lays Off 5 Percent of Employees in San Jose, Milpitas — Hashtag.2017.09.02 via San Jose Community on Inoreader
Finding Your Path To Success
The corporate innovation landscape is changing and with it the number of tools that can be used. How do you find success?
TikTok has Mountain View office near Facebook, poaching employees
TikTok, the upstart social media app, has opened an office in Silicon Valley and begun to poach Facebook employees, multiple people familiar with the matter told CNBC.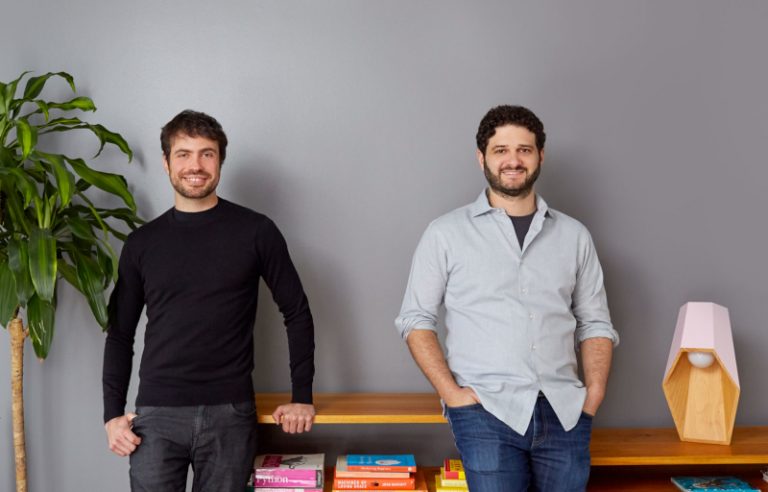 Following Slack, Asana introduces its own workflow automation tools
SiliconANGLE
•
1571331692
Freeing up knowledge workers from repetitive tasks is the new frontier for Silicon Valley's team collaboration providers.On Tuesday, Slack Technologies Inc. launched Workflow Builder, a tool t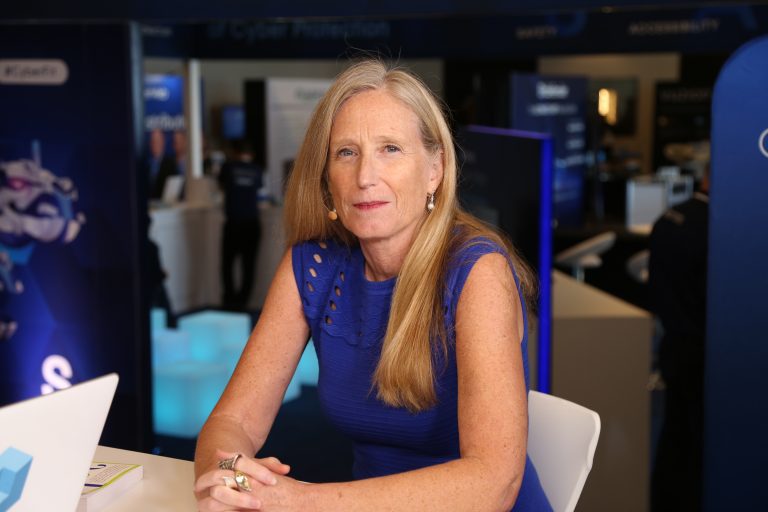 Is being helpful in the workplace hurting women's chances of promotion?
SiliconANGLE
•
1571099052
There's a new pothole in the path to equality in the workplace. The balancing act between being assertive enough to get attention, yet not too assertive as to be seen as "unwomanly" has been well-do
Remote Work Is the Future of Work
Remote work is an early-inning trend for enterprises and SMBs, bringing with it the demand for a new generation of enabling technologies. Some of these enabling technologies can evolve from existing applications that support remote work (think Zoom) but many more are needed to make distributed workforces as efficient and effective as traditional in-office teams. What follows is a look at the dynamics of remote work and distributed workforces, and a quick tour of what's still needed for commun...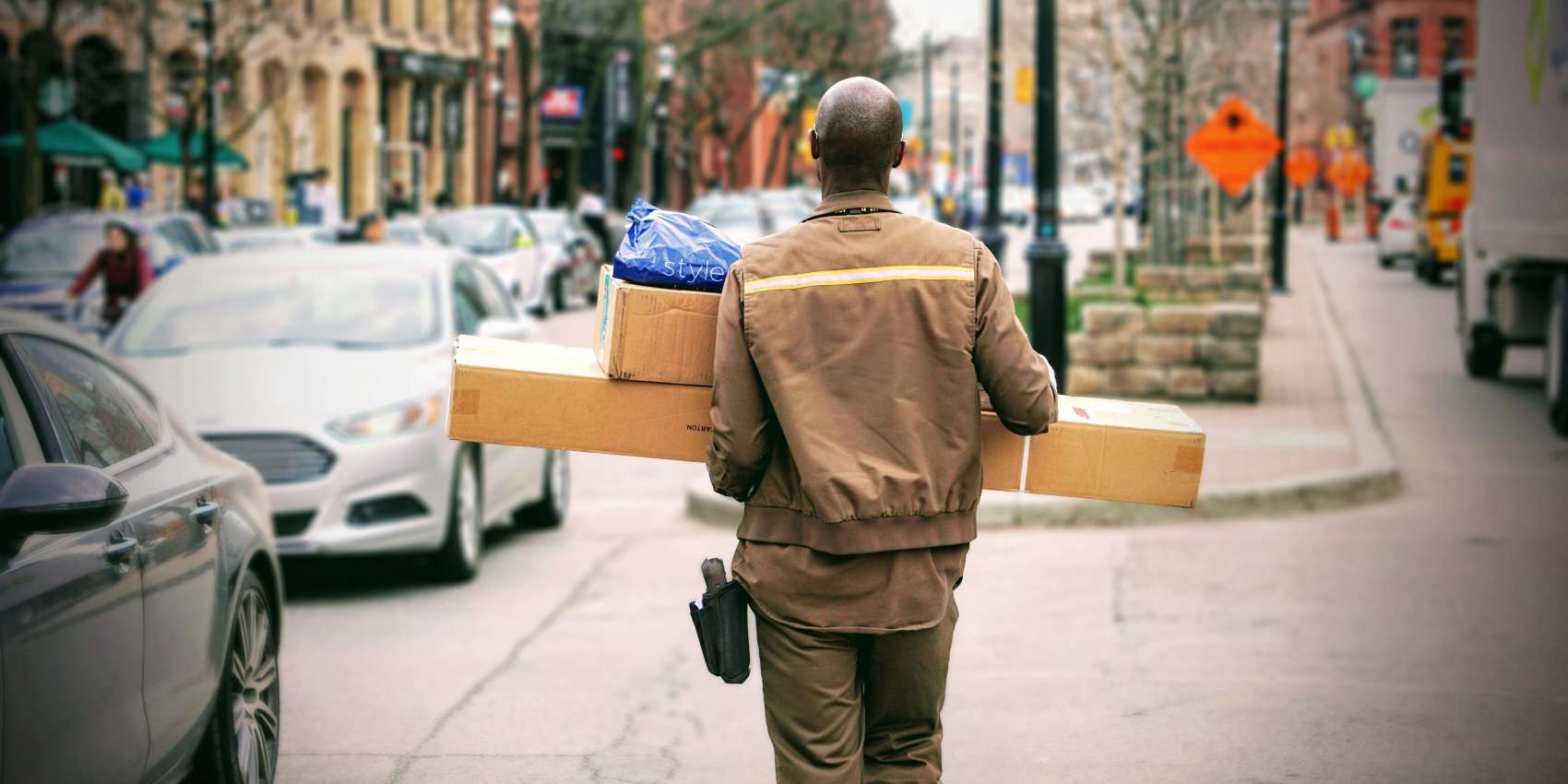 Economic Inequality and the Future of Work
With the rise of AI, automation and the gig economy, everyone is trying to forecast the future of work. But perhaps a more urgent topic is the future value of a worker. Here in the Bay Area, a stark wage gap is causing a reckoning that's being felt across the region. Is a lasting solution simply a matter of implementing a higher minimum wage, adopting sustainable hiring practices or providing a universal basic income? Or is the problem systemic and in need of more radical change? In part two of a three-part series, we'll discuss the value of work and its impacts on the Bay Area of tomorrow. Co-presented by KQED.
With co-CEOs, companies flirt with disaster
Leave it to Larry Ellison to appoint two successors. The founder of software giant Oracle is known for a lifestyle that seems to abide by the more-is-more mantra. With an estimated personal wealth of $46 billion, Ellison has built a sprawling Japanese-style home in Silicon Valley, purchased enviable property in Malibu, sponsored last year's America's Cup champion, and two years ago bought an entire Hawaiian island. His succession announcement on Thursday appears to be yet another case of exce...
Bay Area tops 4.1 million jobs, 10 straight months of employment gains – East Bay Times
East Bay Times
•
1569002514
In a fresh indication that any potential economic downturn remains beyond the visible horizon, the Bay Area added 5,100 jobs during August, an upswing led by the region's three major employme…
2019 Workforce Report reveals highest-paying industries, demographic disparities – Santa Cruz Sentinel
Santa Cruz Sentinel
•
1568419629
SANTA CRUZ — The 2019 State of the Workforce Report, released in August, reveals the county's strongest industries and where the workforce has room for improvement. The report, conducted by i…
A fierce battle over defining employees in California nears decisive vote
Los Angeles Times
•
1567857608
Dozens of business groups have asked for exemptions as Assembly Bill 5 seeks to clarify who is and isn't an employee in California.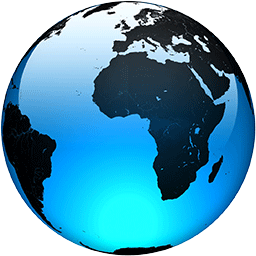 Why Mayor Liccardo isn't upset about San Jose losing jobs to cities like Nashville
One News Page
•
1567793095
Why Mayor Liccardo isn't upset about San Jose losing jobs to cities like Nashville • San Jose Mayor Sam Liccardo lives in the heart of Silicon Valley, and while he wants his city to grow, he's OK with losing some tech jobs to Music City. • Business • One News Page: Friday, 6 September 2019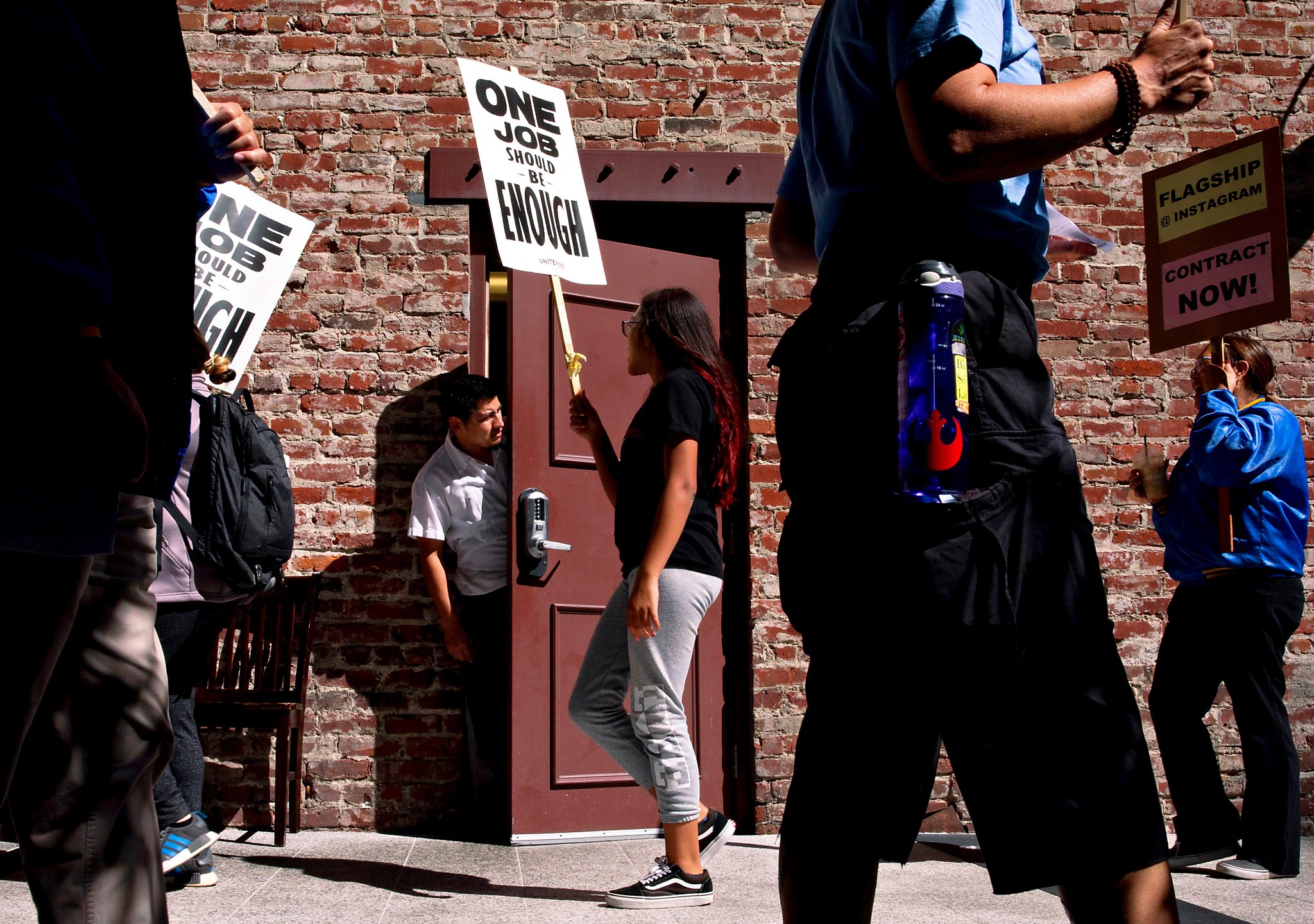 Tech workers want to grade companies on quality of blue-collar jobs
In San Francisco, white-collar tech workers see shuttle drivers, cafeteria workers and security guards every day. Many view them as colleagues, even though the blue-collar workers often work for different companies. Some tech workers have even joined contractors at the picket line as they form unions and make their own demands. Now, a Bay Area nonprofit is opening up a new point of pressure on tech companies that contract out work — a call that comes from inside the building. TechEquity Col...
Verizon bringing 3,400 employees to San Jose
thesanjoseblog.com
•
1566259200
San Jose's Coleman Highline looks like it will be fully leased before construction is over. Verizon Communications will join Roku in leasing generous amounts of space at the property. Verizon is grabbing 640,000 SQFT across multiple buildings, which is enough for 3,400 employees. 2,400 of those will be coming from an existing campus in Sunnyvale. Coleman Highline will eventually have 1.75 million SQFT of space across eight office buildings, two hotels, and retail spaces. Project completion is...
How 'ghost work' in Silicon Valley pressures the workforce, with Mary Gray – TechCrunch
The phrase "pull yourself up by your own bootstraps" was originally meant sarcastically. It's not actually physically possible to do — especially while wearing Allbirds and having just fallen off a Bird scooter in downtown San Francisco, but I should get to my point. This week, Ken Cuccinelli, the acting Director of the United States Citizenship and Immigrant Services Office, repeatedly referred to the notion of bootstraps in announcing shifts in immigration policy, even going so far as to ...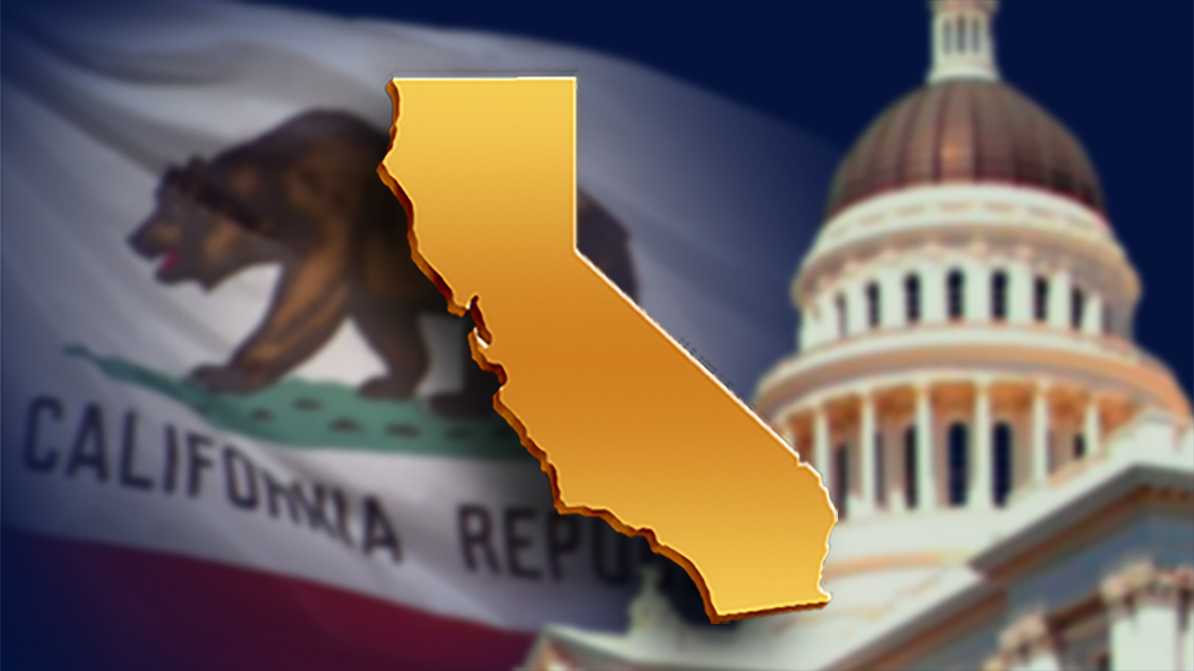 California's 113-month job growth ties record set in 1960s
California officials announced Friday that job growth in the world's fifth largest economy is now in its 113th month, tying the expansion of the 1960s as the longest on record.The country's most populous state needs between 8,000 and 9,000 new jobs each month to keep up with its growing workforce. But for the past nine years, California has averaged 29,200 new jobs each month, according numbers released Friday by the state Employment Development Department.The more than 3.2 million jobs Calif...
Cisco lays off nearly 500 workers in San Jose and Milpitas – Silicon Valley
Silicon Valley
•
1565827637
Large numbers of engineers and managers have been let go from the San Jose tech giant.
Workplace energy: how to create the perfect conditions
At WeWork, we take a research-based approach to creating conditions for best-in-class workspace vibes, allowing employees to feel happy, relaxed, and productive. #weworkhttps://we.co/energytw Workplace energy: how to create the perfect conditions There's a science behind creating the ideal "vibe" in a workspace—and design plays a big role wework.com
'I'm Independent': Not All Gig Economy Workers Want a Full-Time Job
NBC Bay Area
•
1565288560
Despite what you may hear, not all rideshare drivers want full-time jobs. Many of them want flexibility. It's why they joined the gig economy in the first place.
To recruit younger people, you have to understand them. Here's a guide
World Economic Forum
•
1560512257
In the face of talent shortages, skills gaps and ageing workforces, what can companies do to attract talent from among millennials and Generation Z?
The Future of Work is Distributed, But Not Easy. One Company Shares Their Playbook.
Operating in a distributed fashion is increasingly viable, but it nonetheless remains very hard to get right. Most companies that try it still fail. I spoke with Zapier co-founder and CEO Wade Foster to learn how they made this model work with such spectacular success.
Why robots and AI won't kill Bay Area job growth
The Mercury News
•
1565011800
Office support, food service, customer service and sales jobs are most at risk of automation.
San Jose council approves more workforce protections
San José Spotlight
•
1565135677
San Jose lawmakers are cracking down on enforcing stricter workforce protections for construction workers almost two years after the shocking discovery of an unlicensed contractor harboring undocumented immigrants in slave-like conditions at the former Silvery Towers site. On Tuesday, the City Council passed a law that requires contractors to pay workers a prevailing wage while...
California's Positive Outliers
Learning Policy Institute
•
1558026129
LPI identified "positive outlier" California school districts—those in which students consistently achieve at higher levels than students from similar racial/ethnic backgrounds.
California Democrats turn up pressure on gig economy
SACRAMENTO, Calif. (AP) — The battle between California lawmakers and ridesharing companies such as Uber and Lyft heated up Wednesday as Assembly Speaker Anthony Rendon offered harsh words laced with expletives for businesses in the gig economy. "They use a lot of really cute words basically to describe the same old (expletive) that they've been doing for a really long time. People keep acting like they've invented new things — it's the same old thing. It's about corporations trying to oppre...
Solving the skills gap with second-chance hiring
news.kochind.com
•
1563920369
With 130,000 employees worldwide (67,000 in the U.S.) we have a lot of stories to tell. See how we're all working to help people improve their lives.
Bay Area Jobs Market Stays Hot But Mid-Wage Workers Feel Squeezed – CBS San Francisco
CBS San Francisco
•
1563578035
The Bay Area job market is so robust, it produced more than 40 percent of all jobs created in California during the first half of the year, according to state labor officials.
Bay Area unemployment rates stayed near rock bottom in June
Bay Area counties posted eight of the 10 lowest unemployment rates in California in June as employers continued to add jobs in most sectors except education, according to Employment Development Department reports issued Friday. Bay Area unemployment rates rose from May in most counties, but that was in part because schools shut down, Last month's rates were still lower than June 2018. The unemployment rate is based on a survey of 5,000 households statewide and is often subject to revision. ...
California Democrats turn up pressure on gig economy
seattlepi.com
•
1562716800
SACRAMENTO, Calif. (AP) — The battle between California lawmakers and ridesharing companies such as Uber and Lyft heated up Wednesday as Assembly Speaker Anthony Rendon offered harsh words laced with expletives for businesses in the gig economy. "They use a lot of really cute words basically to describe the same old (expletive) that they've been doing for a really long time. People keep acting like they've invented new things — it's the same old thing. It's about corporations trying to oppres...
New Numbers Show Silicon Valley Tech Jobs Are Moving North
CBS San Francisco
•
1562447069
For years, Silicon Valley has been the crown of the South Bay but new tech employment numbers show that its reach is expanding farther north. Betty Yu reports. (7-5-19)
Can Gig Workers Have Flexibility and Protections Afforded to Employees in AB 5? Absolutely – California Labor Federation
calaborfed.org
•
1562611451
Gig companies like Uber, Lyft and Doordash, desperate to avoid providing basic protections and decent pay to drivers, are engaged in an all-out disinformation campaign to defend their illegal business models and kill legislation that would protect workers. We can't possibly provide flexibility AND treat our workers with dignity and respect, they say. Nonsense. The notion that flexibility is inconsistent with employee status is what we'll call The Big Lie. The Big Lie offers gig companies cove...
Will the rise of A.I. and automation lead to mass unemployment?
Digital Trends
•
1559552400
If you've been following the conversation about technological unemployment and the threat of robots and A.I. stealing jobs, you may have come across the prediction that 47% of current jobs in the U.S. are at risk of automation. That figure comes from a widely cited 2013 paper, titled "The Future of Employment." One of that paper's co-authors, Dr. Carl Benedikt Frey, has now expanded on the thesis in a new book. Frey is co-director of the Oxford Martin Programme on Technology and Employment at...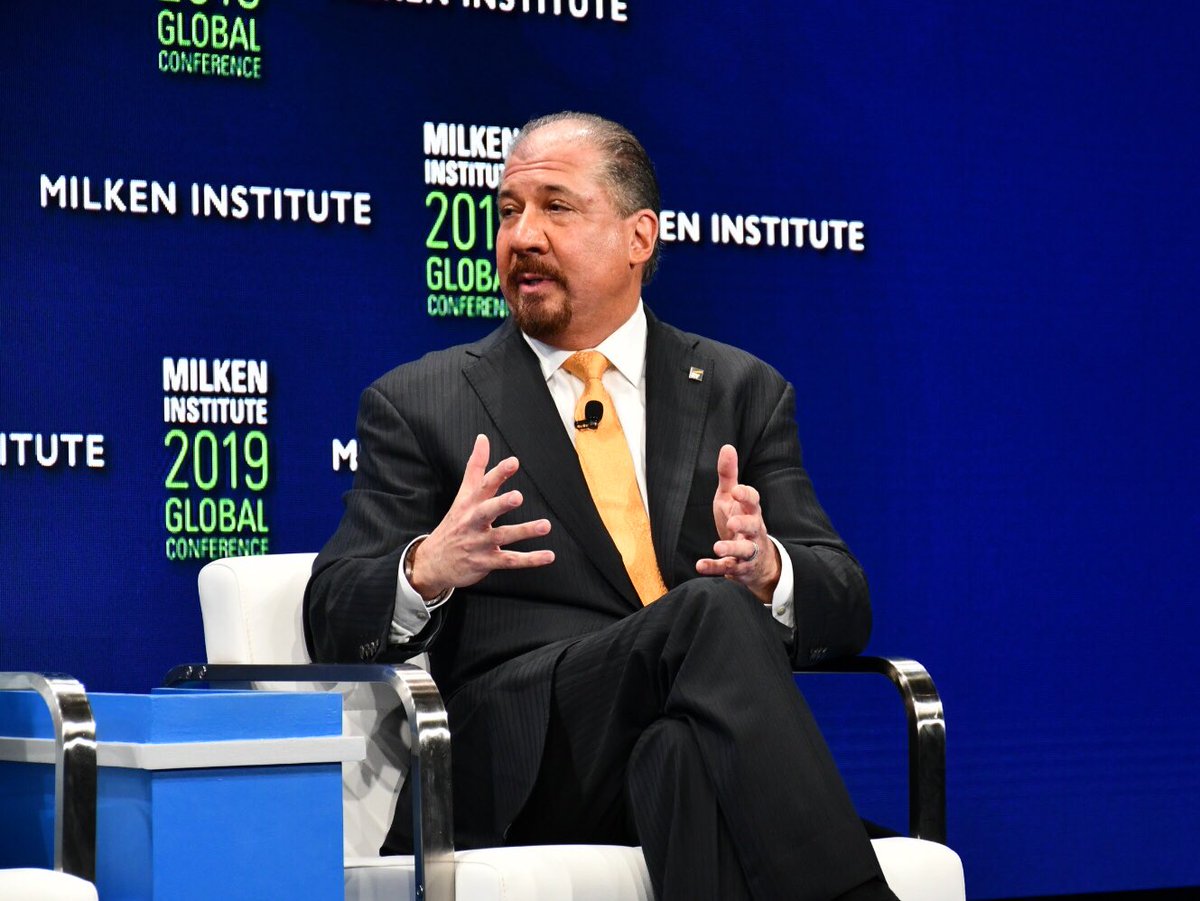 People entering the workforce today will eventually work in jobs that don't exist yet, with technology that hasn't been invented yet, to solve problems that haven't been identified yet. @Mark_Weinberger discusses at #MIGlobal.pic.twitter.com/iK2RpqMBoc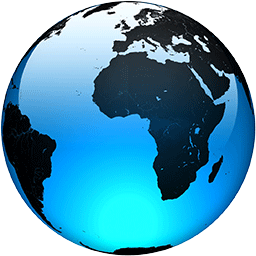 Report: Intel cuts jobs at Silicon Valley autonomous driving lab
One News Page
•
1556230404
Intel Corp. has laid off several dozen employees at its Santa Clara autonomous driving research lab, The Information reported Thursday, as the chipmaker consolidates more of its work on self-driving technology at its operations in Israel. The job.. • Business • One News Page: Thursday, 25 April 2019
Bay Area job market powers to big new employment gains
The Mercury News
•
1555697609
The Bay Area's job market in March powered to its best monthly gains so far in 2019 -- and the best month since last June -- a hiring surge led by Santa Clara County and the East Bay, state labor experts reported Friday.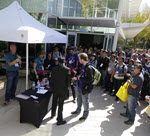 Silicon Valley Code Camp in San Jose on October 19-20 2019
Managing programmers is hard! Becoming a successful manager requires a drastic change of focus. The transition from programmer to manager is made particularly challenging by the dramatic difference between what made us successful as programmers and what it takes to successfully manage others. In addition, programmers are an interesting management challenge. We tend to be free spirits, playful, curious, and (very) independent.