Small Homes, Big Impact is a new pilot program from Housing Trust offering free educational workshops and financial assistance to homeowners seeking to build an accessory dwelling unit (ADU). ADUs are secondary dwelling units to the primary home and can be built as attached units, detached or convert an existing bedroom or accessory dwelling unit like a garage, depending on what is allowed by the city you live in.
Source: Accessory Dwelling Unit (ADU) Program
San Jose Considers Transfer Tax Exemptions for Non-Profits
San Jose Inside
•
1581462105
As housing advocates drum up support for Measure E, the city is figuring out how to spare non-profits from the impact of the tax measure.
City of San Jose
cronycle.com
•
1576510200
A newly released federal report highlights the value of the Foreign Trade Zone program to businesses in the San Jose region and across the nation. The Foreign Trade Zones Board Annual Report to the U.S. Congress of 2018 FTZ activity shows a significant increase in the value of merchandise in Foreign Trade Zones, both foreign and domestic, exceeded $793 billion, an increase of $124 billion from 2017. In the San Jose region, four companies – Space Systems Loral, Lam Research, Tesla, and the RK ...
Reflecting on 4 years of service as San José's Chief Innovation Officer
When I arrived in San José in 2016, two suitcases in tow, I didn't know what I was getting myself into. I moved from the East Coast with not much more than a feeling that there was something special…
San Jose opens first affordable housing complex for the homeless
ABC7 San Francisco
•
1566610864
After many years of planning and construction, community leaders celebrated the grand opening of Second Street Studios-- San Jose's first affordable housing development strictly reserved for the formerly homeless.
Unique Public-Private Conservation Partnership Preserves 937 Acres in Coyote Valley – El Observador
El Observador
•
1574449743
SAN JOSÉ, Calif. - On November 6 the San José City Council approved the protection of 937 acres of open space in North Coyote Valley, through an innovative partnership between Peninsula Open Space T...
San Jose leaders split on how to spend housing tax revenue
San José Spotlight
•
1574035200
San Jose lawmakers on Tuesday are expected to approve drafting an affordable housing tax measure for the March 2020 ballot, but differ on how to divvy up the funds that the tax will generate — a frequent dilemma among a City Council that is often at odds with one another. In a memo to their colleagues, Mayor Sam Liccardo and Councilmembers Lan Diep and Raul Peralez are advocating to allocate half the funds for housing that prioritizes extremely-low income households. They want to allocate ano...
On Track to 2040: General Plan 4-Year Review
sanjoseca.gov
•
1574208000
The Envision San José 2040 General Plan establishes a four-year review cycle, providing opportunity to evaluate the City's achievement of key goals and mid-course adjustments to the General Plan. This work will be done through open, public meetings of the Envision San José 2040 Task Force and City Council. The City is currently undergoing its second four-year review cycle from Fall 2019 to Spring 2020. To view past efforts, visit the General Plan Four-Year Review Cycle #1 (2015/2016) page. En...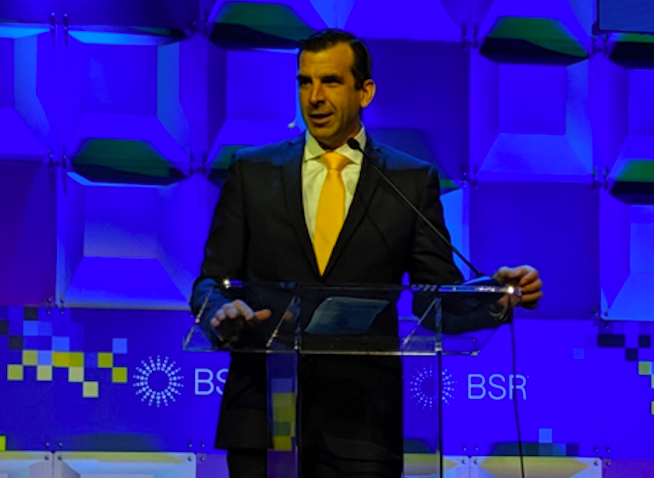 At BSR, San Jose Mayor Praises Corporate Focus on the Homeless in Wealthy Silicon Valley
triplepundit.com
•
1573676667
Over 9,000 people find themselves homeless in Santa Clara County each night - to Silicon Valley's credit, more tech companies are stepping up to take on this crisis.
San Jose Clean Energy
sanjosecleanenergy.org
•
1565032854
The Community Energy Department is seeking qualified candidates who are passionate about the environment, driven, creative and who have a desire to be part of making a difference in their community. This is an exciting opportunity to lead positive change and take ownership and pride in being a part of a newly created department at the City of San José as it becomes fully
What do you get San Jose for its 242nd birthday?
East Bay Times
•
1573128572
San Jose will get an early birthday celebration Saturday at the Peralta Adobe, with family-friendly activities and a walking tour planned.
Union Attack Ad Accuses San Jose Councilman of Rewarding 'Slavery Towers' Developers
San Jose Inside
•
1573020008
The ad opens with images of twin highrises before the words "Slavery Towers" flash on the screen in bold white font. In a dramatic baritone, a narrator recounts the harrowing discovery that the project's subcontractor harbored undocumented workers and forced them to labor for free. The YouTube video proceeds to blame San Jose Councilman Lan Diep for giving developer KT Urban "a $22 million taxpayer-funded subsidy" despite its involvement with the Silvery Towers project at 188 W. St. James St....
What do you get San Jose for its 242nd birthday?: Pizarro
The Mercury News
•
1573042560
San Jose turns 242 this month, and if you were to peek at the city's birthday wish list no doubt you would find a desire for more housing, safer streets and probably a gift card for a spa day. After all, tussling with PG&E and planning a wedding to Google can take its toll on a city. But it's actually your presence — not presents — that's being requested at History San Jose's official birthday bash this Saturday at the Peralta Adobe and Fallon House sites at downtown's San Pedro Square. Keepi...
Editorial: These four Bay Area cities face serious financial risk
The Mercury News
•
1572761100
We've been warning for years now that too many California cities are in financial distress, failing to responsibly balance their income with their expenses. New data from state Auditor Elaine Howle supports that concern. Wherever you live, you should use Howle's new website to understand the challenges your city faces. Especially if you live in El Cerrito, Richmond, Oakland or San Jose. Those Bay Area cities rank among the worst 25 in the state, most at risk for financial distress. Howle deem...
City of San Jose Plans to Double Electric Car Charging Stations with $14 Million Investment
San Jose Inside
•
1571790524
The biggest chunk of the investment—$10 million—will come from the state. And the remaining $4 million from a vote by the City Council.
Plugging into community know-how in America's innovation capital
Serving as Chief Innovation Officer in a city that calls itself the "Capital of Silicon Valley" comes with a little added pressure. Shireen Santosham is up to the task. "My job is to help San José…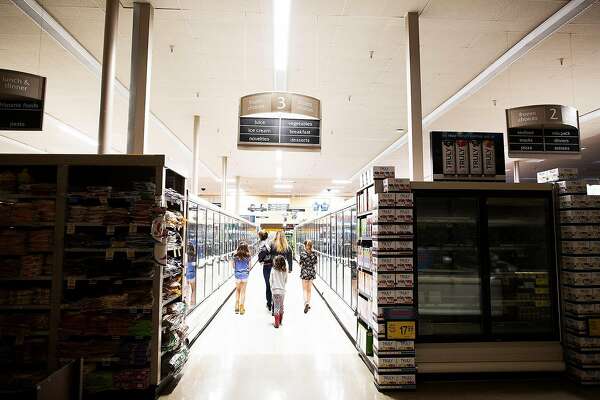 Frustrated with PG&E, San Jose considers forming own utility
SFChronicle.com
•
1571688773
San Jose's mayor wants his city to split off from PG&E and create its own electric utility — something San Francisco is also trying to do.
Audio: San Jose Mayor Considers A Shift Away From PG&E, Calls For Customer-Owned Utility Services
Southern California Public Radio
•
1571773183
Join KPCC's AirTalk with host Larry Mantle weekdays for lively and in-depth discussions of city news, politics, science, the arts, entertainment, and more. Call-in number: 866-893-5722 San Jose Mayor Sam Liccardo isn't holding back on his frustration with PG&E, the state's largest utility, after the company induced blackouts that impacted hundreds of thousands of residents last week. The outages could continue for up to a decade, according to NPR News. Other public officials, including Gov. G...
Loma Prieta Quake Still Guides How San Jose's Emergency Services Chief Does His Job
San Jose Inside
•
1571292016
The clock read 5:04pm when he felt the first jolt. The date: Oct. 17, 1989. Ray Riordan, an emergency preparedness expert by trade, stood on the second floor of a wood-framed building in Pleasanton when the tremors started. He recalls being in a hallway, grasping at walls that stood six feet apart—well beyond his wingspan. Yet, as the building began swaying and buckling, he said his arms stretched easily from wall to wall. The 6.9 magnitude Loma Prieta earthquake took 63 lives and injured 3,7...
San Jose Mayor Proposes Creation of Public Utility in Wake of PG&E's Power Shutoffs
San Jose Mayor Sam Liccardo says he wants the city to buy PG&E's power lines to create a municipal utility. He announced the proposal on Thursday, in the wake of last week's power shutoffs by PG&E in an effort to reduce the risk of wildfires. About 60,000 residents in San Jose lost power during the shutoffs, according to Liccardo. In his proposal, Liccardo said the city simply can't rely on PG&E "to act in our resident's best interest." The California Senate and PG&E's state regulator are now...
San Jose Mayor Says Power Shutdown Cost His City $500,000 – CBS San Francisco
CBS San Francisco
•
1570746726
The massive PG&E public safety power outage has cost the city of San Jose about a half million dollars and that amount is expected to climb, mayor Sam Liccardo said on Thursday.
San Jose, CA opens grant applications for digital equity program
Smart Cities Dive
•
1570406400
Dive Brief: San Jose, CA is accepting applications for $1 million worth of community grants intended to improve digital equity for all residents by increasing internet access and skills. Applicants must be an educational institution, public agency or 501(c)(3) that provides services to San Jose residents in areas such as education, workforce development, homelessness, or other social services. The organization must already be — or would like to be — addressing San Jose residents' digital need...
SJ City Hall's tower lit with purple light for Domestic Violence Awareness Month
The Mercury News
•
1570028503
San Jose City Hall's tower will glow in purple light throughout October in honor of Domestic Violence Awareness Month. Over a hundred people gathered in the rotunda to kick-off the lighting sponsored by Next Door Solutions to Domestic Violence in Santa Clara County.
San Jose launches new data-driven 'Social Progress Index' tool
SAN JOSE, Calif. (KGO) -- The city of San Jose has unveiled a new tool that can be used to help ensure its community's most pressing needs are identified and responded to in a more equitable manner. It's called the Social Progress Index - and it analyzes data right down to the census tract."It's important for the entire community to see transparently what's going on in our city," said Mayor Sam Liccardo.In partnership with the national nonprofit Social Progress Imperative , San Jose has becom...
Silicon Valley City Approves Privacy Principles, Moves to Hire
Techwire.net
•
1569888000
The Northern California municipality plans to create its formal policy during the next roughly 12 months, in order to maintain the trust of residents whose information it may collect and store. Officials in Silicon Valley's largest city have approved a document that will be foundational to their creation of a citywide privacy policy, and will hire an analyst focused on that project. The San Jose City Council on Sept. 17 approved a resolution setting out six City-Wide Privacy Principles. Dolan...
San Jose Draws Scrutiny From State Leaders, Other Cities Over Tax-Sharing Pact with eBay
San Jose Inside
•
1570060800
The past few years in San Jose have been marked by smug political posturing between business and labor factions over where the line falls between economic development and corporate handout. When Google announced its interest in redeveloping the western swath of downtown, labor leaders waged an aggressive campaign for community benefits. Mayor Sam Liccardo and his business-aligned colleagues, meanwhile, boasted about how the search-and-advertising giant paid a fair-market price for city land a...
San Jose needs electrification 'reach code'
The Mercury News
•
1567177831
San Jose Mayor Sam Liccardo is right: We need to get carbon out of our economy, and cities must lead the way.
San Jose's top retirement officials will be kicked off plan
San José Spotlight
•
1566921644
Almost five years after Measure G passed, the San Jose City Council on Tuesday will hear a proposal to boot executive employees working in the city's Office of Retirement Services from the retirement plan that they directly worked on. As part of a thorough reform to clean up San Jose's pension boards, Measure G reluctantly passed...
Lan Diep Condemns Push Poll Rumor as Political Smear Job
San Jose Inside
•
1565877976
The San Jose councilman says he's been caught in the crossfires of an apparent political hit that aims to cast him in a bad light.
Councilwoman Critical of SJ Mayor's Gun Insurance Proposal
NBC Bay Area
•
1565915112
Just days after San Jose's mayor introduced a historic gun control proposal, a councilwoman is going on the offensive against him.
San Jose Officials Bake In City Hall With Glitchy Air Conditioning – CBS San Francisco
CBS San Francisco
•
1565892230
City Hall in San Jose is only 14 years old, but the building's cooling system is apparently out of date.
Meet San Jose's new City Hall watchdog
San José Spotlight
•
1565251022
San Jose City Hall has a new watchdog and he vows to hold officials accountable — including himself. The city auditor, one of the most important jobs at City Hall, was recently filled by a veteran of the department, Joe Rois, who joined the City Auditor's office in 2008. Rois earned a couple of promotions...
Union Coalition Pushes Reform Measure That Would Shift San Jose's Mayoral Elections
San Jose Inside
•
1565183507
A local coalition of union-aligned advocacy groups hope to upend what they call a pay-to-play environment in San Jose politics.
Mayor Sam Liccardo unblocks hundreds on social media after Trump ruling
San José Spotlight
•
1565020814
A federal appeals court upheld a ruling last month that President Donald Trump violated the First Amendment by blocking critics on Twitter — prompting San Jose Mayor Sam Liccardo to begin reinstating hundreds of social media users he's blocked on Twitter and Facebook, a move that one good government advocate said is "better late than...
San Jose council approves more workforce protections
San José Spotlight
•
1565135677
San Jose lawmakers are cracking down on enforcing stricter workforce protections for construction workers almost two years after the shocking discovery of an unlicensed contractor harboring undocumented immigrants in slave-like conditions at the former Silvery Towers site. On Tuesday, the City Council passed a law that requires contractors to pay workers a prevailing wage while...
Santa Clara receives $6.2M from San Jose following bitter lawsuit
San José Spotlight
•
1565054484
Santa Clara officials are deciding how the city will spend $5 million earmarked for affordable housing that the city has received from San Jose this week as part of a lawsuit settled last year. Though the money will go toward affordable housing, the city hasn't yet identified specific projects or initiatives for the funds. San...
City of San Jose, Design Firms Host Pop-Up to Solicit Feedback About Self-Driving Vehicles
San Jose Inside
•
1564665815
Organizers say this is just the beginning of what they hope will become a deep collaboration between the city and its people.
San Jose opposes bill to ban towing vehicles
San José Spotlight
•
1564502432
A handful of California lawmakers want to bar cities from towing cars over unpaid parking tickets and other fees that disproportionately harm low-income families and people living in their cars. But in San Jose, officials are pushing back stating that the bill will exacerbate existing parking woes and excessive abandoned vehicles on city streets. The...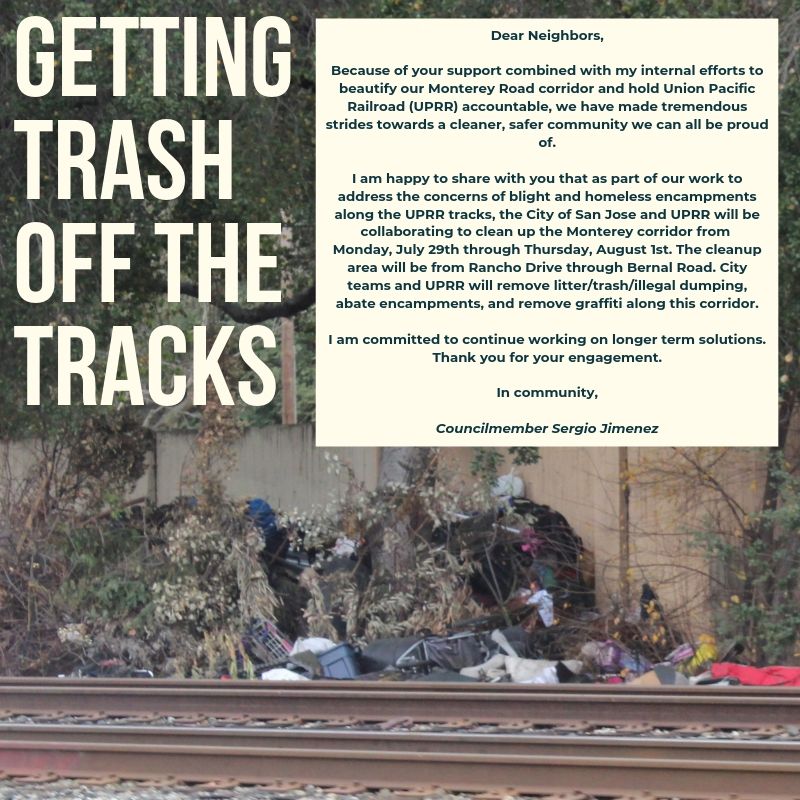 The Monterey Road clean up this week is a collaboration between @CityofSanJose + @UnionPacific Railroad. Thank you #SJD2 & #SanJose residents for supporting me as I do everything in my power to coordinate efforts & beautify our community. #D2CleanStreetspic.twitter.com/Q3VyjdRuEN
San Jose Submerged: A flood website launched for victims, whistleblowers
San José Spotlight
•
1564068640
A new website dubbed San Jose Submerged is detailing "the history of negligence" by government agencies that failed to protect San Jose residents from disastrous flooding two years ago and pushing to ensure they get compensated. "It's so unbelievable that this happened in San Jose in the self proclaimed capitol of silicon valley and folks...