Small Homes, Big Impact is a new pilot program from Housing Trust offering free educational workshops and financial assistance to homeowners seeking to build an accessory dwelling unit (ADU). ADUs are secondary dwelling units to the primary home and can be built as attached units, detached or convert an existing bedroom or accessory dwelling unit like a garage, depending on what is allowed by the city you live in.
Source: Accessory Dwelling Unit (ADU) Program
San Jose, CA opens grant applications for digital equity program
Smart Cities Dive
•
1570406400
Dive Brief: San Jose, CA is accepting applications for $1 million worth of community grants intended to improve digital equity for all residents by increasing internet access and skills. Applicants must be an educational institution, public agency or 501(c)(3) that provides services to San Jose residents in areas such as education, workforce development, homelessness, or other social services. The organization must already be — or would like to be — addressing San Jose residents' digital need...
SJ City Hall's tower lit with purple light for Domestic Violence Awareness Month
The Mercury News
•
1570028503
San Jose City Hall's tower will glow in purple light throughout October in honor of Domestic Violence Awareness Month. Over a hundred people gathered in the rotunda to kick-off the lighting sponsored by Next Door Solutions to Domestic Violence in Santa Clara County.
San Jose launches new data-driven 'Social Progress Index' tool
SAN JOSE, Calif. (KGO) -- The city of San Jose has unveiled a new tool that can be used to help ensure its community's most pressing needs are identified and responded to in a more equitable manner. It's called the Social Progress Index - and it analyzes data right down to the census tract."It's important for the entire community to see transparently what's going on in our city," said Mayor Sam Liccardo.In partnership with the national nonprofit Social Progress Imperative , San Jose has becom...
Silicon Valley City Approves Privacy Principles, Moves to Hire
Techwire.net
•
1569888000
The Northern California municipality plans to create its formal policy during the next roughly 12 months, in order to maintain the trust of residents whose information it may collect and store. Officials in Silicon Valley's largest city have approved a document that will be foundational to their creation of a citywide privacy policy, and will hire an analyst focused on that project. The San Jose City Council on Sept. 17 approved a resolution setting out six City-Wide Privacy Principles. Dolan...
San Jose Draws Scrutiny From State Leaders, Other Cities Over Tax-Sharing Pact with eBay
San Jose Inside
•
1570060800
The past few years in San Jose have been marked by smug political posturing between business and labor factions over where the line falls between economic development and corporate handout. When Google announced its interest in redeveloping the western swath of downtown, labor leaders waged an aggressive campaign for community benefits. Mayor Sam Liccardo and his business-aligned colleagues, meanwhile, boasted about how the search-and-advertising giant paid a fair-market price for city land a...
San Jose needs electrification 'reach code'
The Mercury News
•
1567177831
San Jose Mayor Sam Liccardo is right: We need to get carbon out of our economy, and cities must lead the way.
San Jose's top retirement officials will be kicked off plan
San José Spotlight
•
1566921644
Almost five years after Measure G passed, the San Jose City Council on Tuesday will hear a proposal to boot executive employees working in the city's Office of Retirement Services from the retirement plan that they directly worked on. As part of a thorough reform to clean up San Jose's pension boards, Measure G reluctantly passed...
Lan Diep Condemns Push Poll Rumor as Political Smear Job
San Jose Inside
•
1565877976
The San Jose councilman says he's been caught in the crossfires of an apparent political hit that aims to cast him in a bad light.
Councilwoman Critical of SJ Mayor's Gun Insurance Proposal
NBC Bay Area
•
1565915112
Just days after San Jose's mayor introduced a historic gun control proposal, a councilwoman is going on the offensive against him.
San Jose Officials Bake In City Hall With Glitchy Air Conditioning – CBS San Francisco
CBS San Francisco
•
1565892230
City Hall in San Jose is only 14 years old, but the building's cooling system is apparently out of date.
San José is in the midst of the largest 5G deployment in the country. More from our CIO @SSantosham in today's episode of the IRL podcast from @firefox. https://mzl.la/2MkHinB https://twitter.com/IRLPodcast_org/status/1160814971166646272 … IRL Podcast @IRLPodcast_org #IRLPodcast | The 5G Privilege: https://irlpodcast.org/season5/episode5/ …
Meet San Jose's new City Hall watchdog
San José Spotlight
•
1565251022
San Jose City Hall has a new watchdog and he vows to hold officials accountable — including himself. The city auditor, one of the most important jobs at City Hall, was recently filled by a veteran of the department, Joe Rois, who joined the City Auditor's office in 2008. Rois earned a couple of promotions...
Union Coalition Pushes Reform Measure That Would Shift San Jose's Mayoral Elections
San Jose Inside
•
1565183507
A local coalition of union-aligned advocacy groups hope to upend what they call a pay-to-play environment in San Jose politics.
Mayor Sam Liccardo unblocks hundreds on social media after Trump ruling
San José Spotlight
•
1565020814
A federal appeals court upheld a ruling last month that President Donald Trump violated the First Amendment by blocking critics on Twitter — prompting San Jose Mayor Sam Liccardo to begin reinstating hundreds of social media users he's blocked on Twitter and Facebook, a move that one good government advocate said is "better late than...
San Jose council approves more workforce protections
San José Spotlight
•
1565135677
San Jose lawmakers are cracking down on enforcing stricter workforce protections for construction workers almost two years after the shocking discovery of an unlicensed contractor harboring undocumented immigrants in slave-like conditions at the former Silvery Towers site. On Tuesday, the City Council passed a law that requires contractors to pay workers a prevailing wage while...
Santa Clara receives $6.2M from San Jose following bitter lawsuit
San José Spotlight
•
1565054484
Santa Clara officials are deciding how the city will spend $5 million earmarked for affordable housing that the city has received from San Jose this week as part of a lawsuit settled last year. Though the money will go toward affordable housing, the city hasn't yet identified specific projects or initiatives for the funds. San...
City of San Jose, Design Firms Host Pop-Up to Solicit Feedback About Self-Driving Vehicles
San Jose Inside
•
1564665815
Organizers say this is just the beginning of what they hope will become a deep collaboration between the city and its people.
San Jose opposes bill to ban towing vehicles
San José Spotlight
•
1564502432
A handful of California lawmakers want to bar cities from towing cars over unpaid parking tickets and other fees that disproportionately harm low-income families and people living in their cars. But in San Jose, officials are pushing back stating that the bill will exacerbate existing parking woes and excessive abandoned vehicles on city streets. The...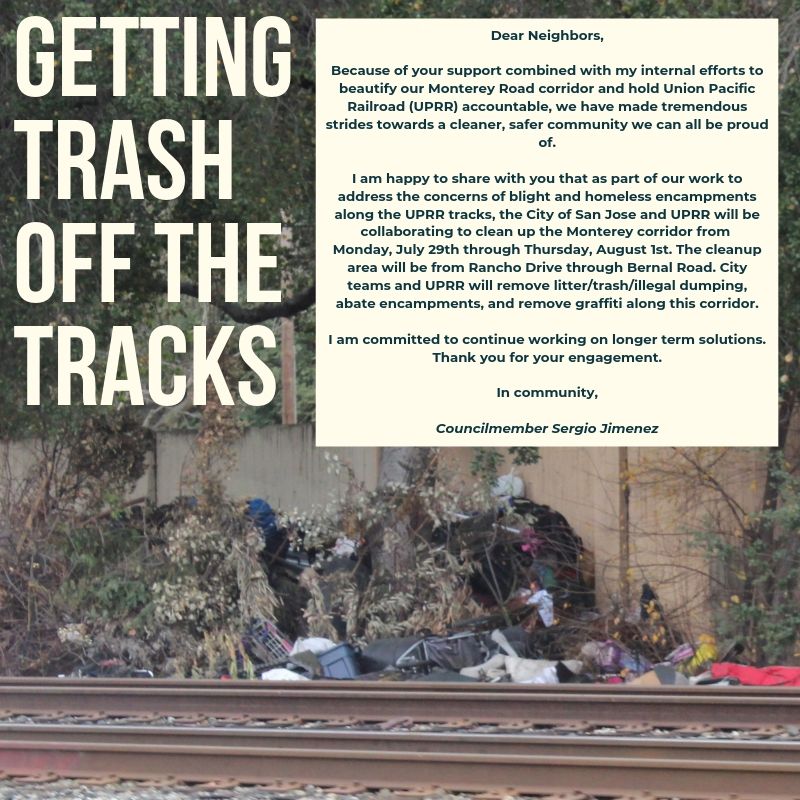 The Monterey Road clean up this week is a collaboration between @CityofSanJose + @UnionPacific Railroad. Thank you #SJD2 & #SanJose residents for supporting me as I do everything in my power to coordinate efforts & beautify our community. #D2CleanStreetspic.twitter.com/Q3VyjdRuEN
San Jose Submerged: A flood website launched for victims, whistleblowers
San José Spotlight
•
1564068640
A new website dubbed San Jose Submerged is detailing "the history of negligence" by government agencies that failed to protect San Jose residents from disastrous flooding two years ago and pushing to ensure they get compensated. "It's so unbelievable that this happened in San Jose in the self proclaimed capitol of silicon valley and folks...
San Jose: Green Party candidate to challenge Councilwoman Dev Davis - San José Spotlight https://sanjosespotlight.com/san-jose-green-party-candidate-to-challenge-councilwoman-dev-davis/
San Jose: Green Party candidate to challenge Councilwoman Dev Davis
San José Spotlight
•
1562630400
Green Party candidate Jake Tonkel has jumped into the San Jose City Council race in District 6, forcing incumbent Dev Davis to fend off two challengers in her re-election bid next fall. "I want to ensure our city is moving forward in a way that addresses income inequality," Tonkel, 28, told San José Spotlight. "My generation is being eaten up by it and it's not just me. Our seniors are being pushed out of their homes. It's hard to see that happen in a city that I love." Tonkel, a biomedical e...
Liccardo's Second Term Pattern Emerges – The Left Hook
The Left Hook
•
1556057969
When Sam Liccardo was elected Mayor in 2014 he had an opportunity to bridge the gap that divided the City. He had been elected by a bare majority composed of the whiter, more affluent parts of the City. People of color in less affluent neighborhoods, largely on the eastside, voted for his opponent Dave Cortese. During his first term, Liccardo…
Sam Liccardo's proposal to reject raise heads to lawmakers
San José Spotlight
•
1556574529
San Jose lawmakers on Wednesday will vote on a request from Mayor Sam Liccardo to dock his own raise. The proposal, which has raised concerns with some of Liccardo's council colleagues, is headed to a council committee which the mayor chairs. If approved by that committee, it will go to the full City Council for...
San Jose Begins Its Biggest Street Repair Program Yet
NBC Bay Area
•
1562634844
The city of San Jose is set to make more street repairs this year than it has ever done, about 280 miles worth when all is said and done.
Living in San Jose, CA
realestate.usnews.com
•
1562552455
What is it like living in San Jose, California? Discover the cost of living, climate, transportation, things to do and more!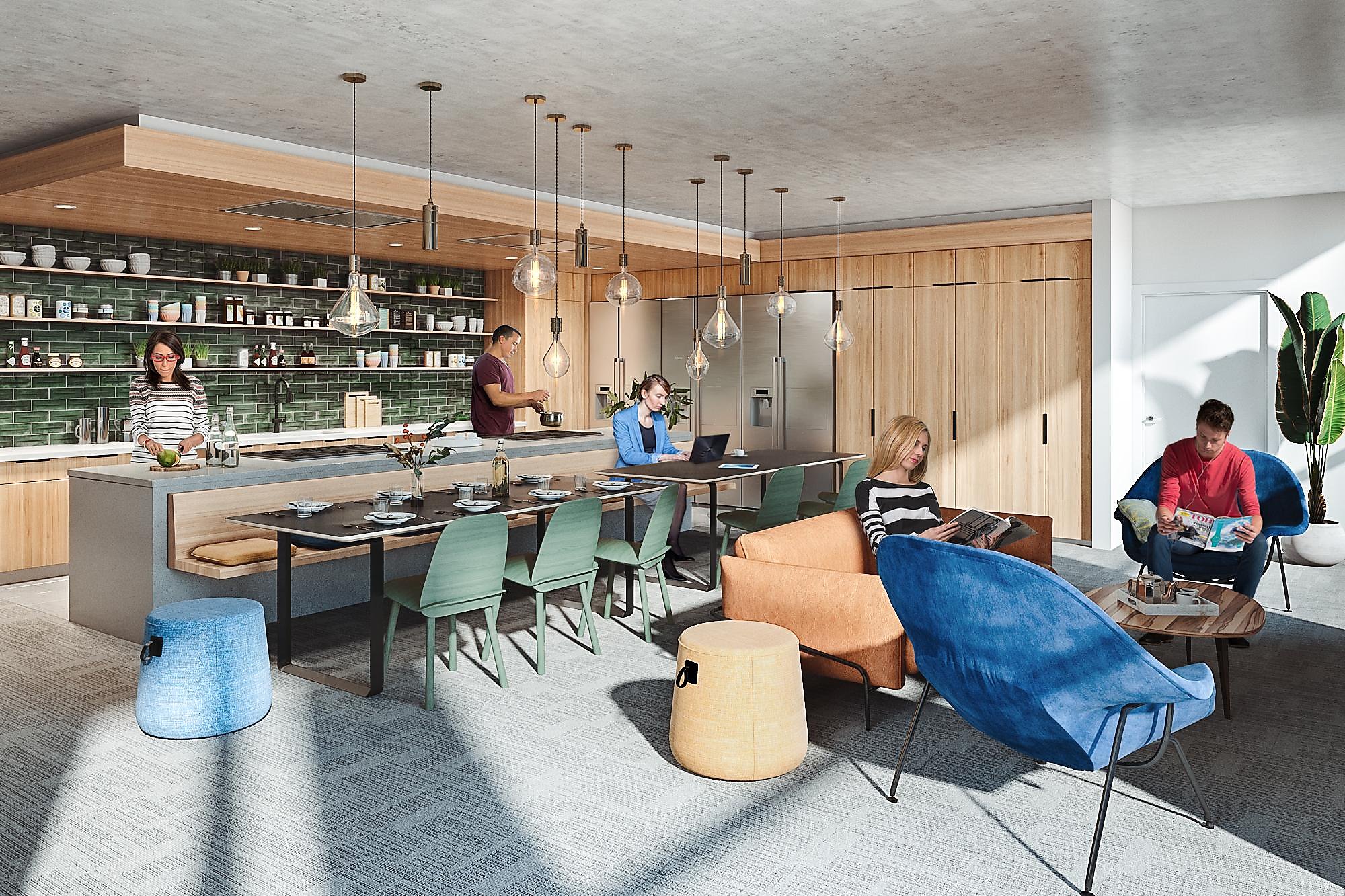 A tale of two cities: How SF and San Jose are approaching co-living projects
One reason developers have been slow to build co-living projects in San Francisco is the city's 2013 decision to require "group home" projects to meet the same affordable housing requirements as other market-rate developments. The decision killed a project that developer Build Inc. and co-living provider Open Door proposed at 1532 Harrison St. The proposal called for 235 micro-suites organized around 28 shared living spaces. "Overnight the board killing our project — we reverted to tradition...
10 Most Expensive Places To Live In The States
It might seem like a great idea to pick up and move to a big city, but the problem lies in the cost of living. The cost of living varies from state to state, like many things, and it is important to understand what you might be getting yourself into financially before making the leap to cross the border into a new state's territory. There are some that might appear affordable on the outside, but upon closer inspection, you might be surprised by what you find. We have found the most expensive ...
San Jose holds third place in U.S. "Solar Star" rankings
City of San Jose
•
1557964800
In case there is any doubt that renewable energy is "a thing," the sixth annual survey of solar energy in America's biggest cities shows that the country now has more than 60 gigawatts (GW) of solar photovoltaic (PV) capacity installed – enough to power nearly one in every 11 homes in America. According to Environment America Research & Policy Center's "Shining Cities 2019" report, San Jose has been ranked #3 in the list of "Solar Star" cities that have more than 50 watts of solar PV capacity...
What's New in Civic Tech: San Jose, Calif., Joins FirstNet
Government Technology US
•
1561593600
San Jose, Calif., recently became the first city in the United States to deploy FirstNet to all of its public safety and emergency response personnel. FirstNet is a national broadband public safety network that has been many years in the making. It is an effort to centralize and modernize emergency response communications across the country. All 50 states are part of it, as is Washington, D.C., the U.S. Virgin Islands, and Puerto Rico. San Jose has not only joined the network, it has extended...
We're sorry, but there was a problem displaying this page. Please reload and try again.
Explore the newest businesses to launch in San Jose
Yahoo News - Latest News & Headlines
•
1561028188
Looking to discover the newest restaurant and retail additions to San Jose? Here's a rundown of the newest hot spots to land recently in the city.
As Community Lenders Sell Out or Go Under, Can Publicly-Owned Banks Restore Local Control?
San Jose Inside
•
1561060979
San Jose and Santa Clara County join a growing movement to wean local governments off Wall Street by creating publicly owned banks.
New #SanJoseSong featuring New Zealander raises concerns
San José Spotlight
•
1561002005
San Jose's tourism leaders are trying to get more people talking about and visiting the city. People are definitely talking now. For many in the 10th largest city in America, San Jose is their hometown. For Grace Kelly, that's not the case. That's why people are sounding off about the city's new music promo, featuring...
How will Google rezoning affect San Jose's taxes?
The Mercury News
•
1561126244
San Jose cannot and must not be the only city to step up to the housing plate.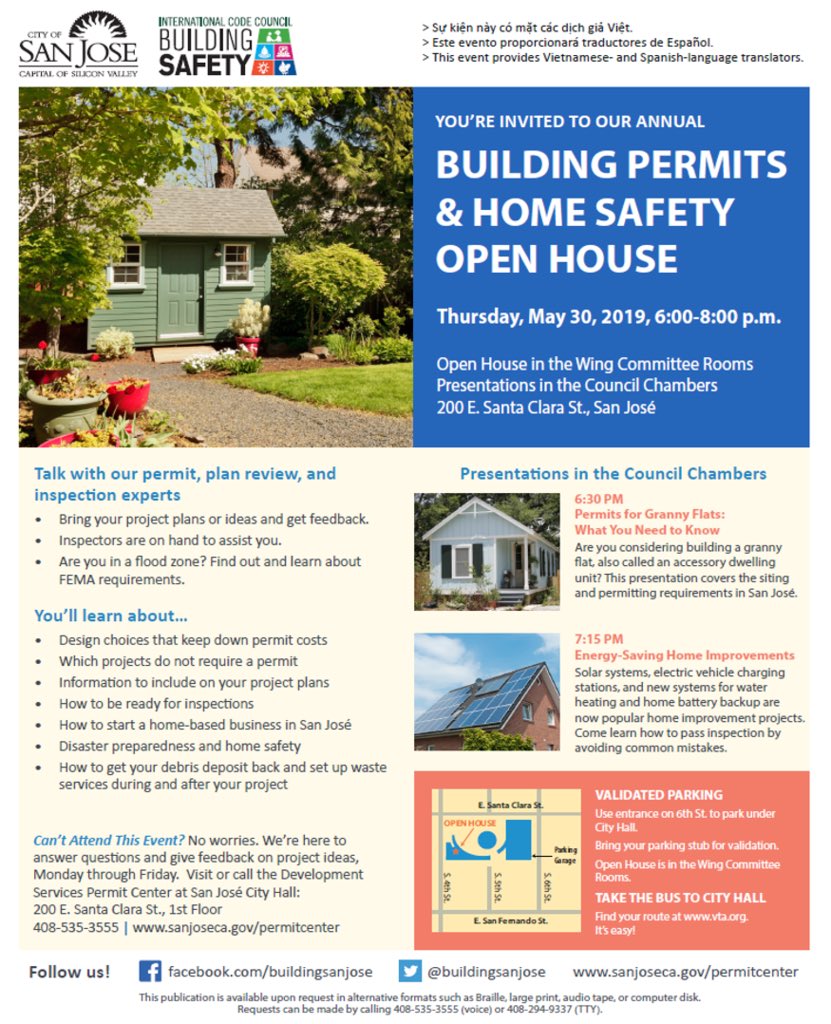 San Jose Community NETWORK
This Thursday 5/30, buildingsanjose will host an open house where City building staff will answer your questions about upgrading your home. ADUs (casitas) will be covered at 6:30p & home energy efficiency improvements will be discussed at 7:15p. Meeting …pic.twitter.com/c40oWwa7Nr
San Jose population declines slightly as other Bay Area cities see increases - Story
Shifting demographics have led to increases for some Bay Area cities, and a population decline in for one unlikely hub. The new looker in San Jose's Vista Park neighborhood is a four-bedroom, two and a half bath New American style house. It's on the market because its owner and family are calling it quits on San Jose.
You can now preselect TotalGreen, our 100% renewable generation service. When your SJCE service starts in February 2019, your electricity will be generated from carbon-free wind and solar farms. TotalGreen is a simple, cost-effective way for you to do even more to reduce your impact on our planet. Choosing TotalGreen will cost the average home about $5-10 more per month, about the same as a cup of coffee or two.
San Jose's Plan To Fix Potholes Hits Roadblock – CBS San Francisco
CBS San Francisco
•
1557861806
The San Jose Department of Transportation warned the city council Tuesday evening that higher than expected bids for road repair work could delay or scale back some projects for the year.
San Jose ranked #2 "Best Small Business Growth City in America for 2nd year
City of San Jose
•
1557254582
Retaining its position as the second best metro area for small businesses in the US for the second year, San Jose has shown continued strength in its small business community's annual revenue, credit score, longevity and other factors. The annual ranking is by Biz2Credit, an online company specializing in small business financing. To determine the... Read more »
A look inside San Jose politics and culture
San Jose Inside
•
1557805340
A unique proposal going before the council aims to give instructors at Santa Clara University a way to weather the affordability crisis.